YouTube added offline viewing to its Android app in late 2014, but the feature is limited to YouTube Red subscribers. If a video is available for offline viewing – not all videos are, and it's up to the video owner to decide whether offline viewing should be available for each clip – you'll see an icon showing a down arrow. Tapping on that will download the clip for offline viewing.
This isn't the most flexible of ways to download YouTube videos to your Android device, but at least it's officially supported. If you want a bit more freedom to download YouTube videos on Android, then you're going to want to look at third party apps.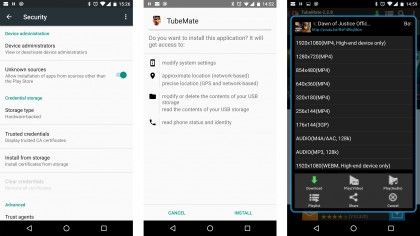 There are a number of free apps to help you download YouTube videos, and one of the best ones is TubeMate. This app isn't available on the Google Play Store, so first of all you'll need to allow your Android device to install and run apps downloaded from other places. Be cautious when you turn on this setting, as you'll want to make sure you only downloaded apps you know are safe and reliable.
Open up Settings and go to Security. Scroll down and next to where it says 'Unknown sources', tap the toggle to turn this setting on. Now on your Android device browse to the TubeMate YouTube Downloader website and tap on the Download button.
You might see a warning message pop up and downloading .apk files, so click 'OK' to allow it. Once downloaded, run the file and tap 'Install'.
With the app installed, open it up and watch videos as you would in the normal YouTube app. If you see a video you want to save for later, load it up, then tap on the green arrow icon at the top of the screen. You'll be given a range of video formats and resolutions to download the file as. Select the one you want and it will then download the YouTube video to your Android device.